Published: Apr 06, 2022 3:00 AM
⋅
Updated: Apr 26, 2022 3:14 AM
Islamic Tourism Centre (ITC) organised a CPR training course for Penang's tourist guides recently in support of preparing tourism industry players for the safe reopening of Malaysia's travel borders on 1 April 2022.
The course shared knowledge of dealing with emergency circumstances, a crucial skill in anticipation of the new wave of inbound tourists to Malaysia this post-pandemic.
YB Yeoh Sooh Hin, Penang State Executive Councillor for Tourism and Creative Economy (PETACE), said in his opening remarks: "When I first heard of this programme, I found it interesting because the topic is very much relevant to the nature of work as tourist guides or in hotels, servicing our guests. It is important for us to always stand ready for any possibilities–mishaps, accidents, sudden illness, and many more–whenever handling travellers coming to Penang. It is even more important now, as Penang is all set to welcome back international travellers for the first time after two years of COVID-19 pandemic closures."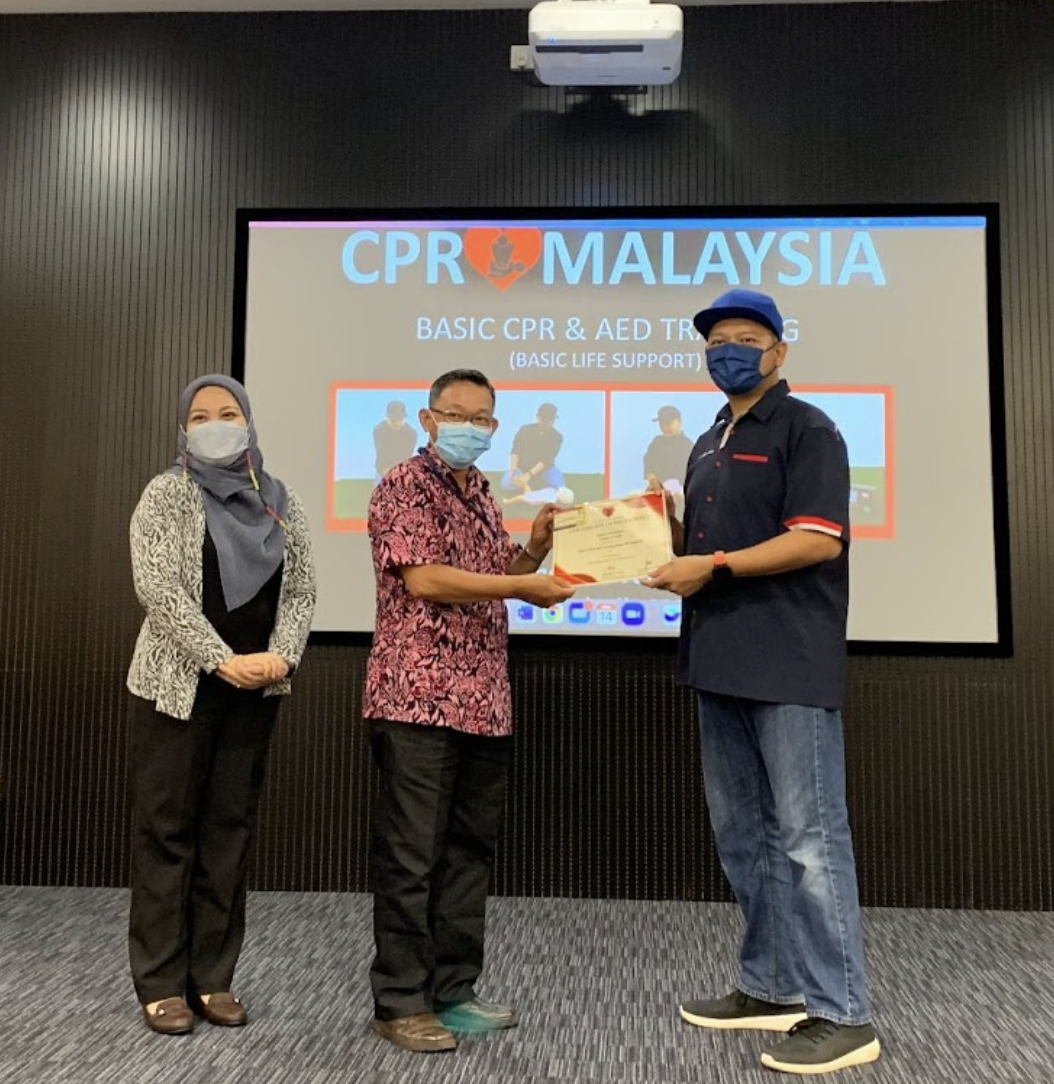 Ms. Nur Alyssa Coraline Yussin, ITC's Director of Research and Training said that ITC organised the training for the Muslim-Friendly Tour Guides (MFTG) it certified to share knowledge about proper rescue techniques and the special considerations needed when dealing with Muslim tourists.
She explained: "The primary purpose is to help train and equip the existing licensed tourist guides in Malaysia with the necessary knowledge and information on the Muslim travel and tourism segment, particularly on the needs and requirements of Muslim visitors."
The training programme was a refresher course for ITC's Muslim-Friendly Tour Guides. It was conducted by Dr. Azizul Amar, founder and president of Akademi Dr. Azizul Amar and Pertubuhan Latihan CPR Malaysia. A qualified CPR and First Aid instructor, he pledged to make sure that at least one person in every household was trained with CPR skills. In doing so, he established CPR Malaysia, a Non-Governmental Organisation (NGO) with a mission "1 Rumah 1 Terlatih CPR".
The lecture and hands-on training by Dr. Azizul included an introduction to the American Heart Association (AHA) guidelines for CPR (Cardiopulmonary Resuscitation), an emergency lifesaving procedure performed when the heart stops beating. He demonstrated the CPR and Hands-Only CPR techniques and also showed participants how to use the Automated External Defibrillator (AED). He also taught the Heimlich Manoeuvre to rescue adults, children, and newborns from choking.
At the end of the training, participants put their new-found knowledge to the test on specially-designed mannequins for CPR training. They were also evaluated through an online test and individual practical assessment before receiving a certificate of proficiency and a Basic Life Support (BLS) Provider card valid for three years.
"This is the value that ITC adds to our tourism partners and stakeholders who want to penetrate into the Muslim tourist market. Our Muslim-Friendly Tour Guides are given the knowledge and skills to save lives. And it's a value for our tourists, too–it's more reassuring to travel around Malaysia when you know you're in the safe hands of our Muslim-Friendly Tour Guides," Ms. Nur Alyssa said.
The training was timely as Malaysia moved forward with tourism recovery efforts. "We are so glad that ITC organised this refresher training for the MFTGs," Ms. Chin Poh Chin, President of the Penang Tourist Guide Association (PTGA) and also an MFTG, said.
"This training comes at an ideal time as we prepare for the reopening of the border, and it will be one of the first steps towards welcoming visitors. Thank you ITC for giving us this opportunity to increase our value as MFTG," she remarked.
"The response for this course has been amazing, and in anticipation of a steady arrival of Muslim tourists to Malaysia, we look forward to train more MFTGs all around Malaysia in Muslim-friendly Tourism and Hospitality (MFTH)," said Ms. Nur Alyssa.
The last item on the itinerary before the programme concluded was a visit around The Ship Peninsula College, the venue of the training. The landmark campus, modelled after a sea-faring cruise ship poised to sail forth into a future of excellence, was symbolic of the MFTG's promising future in Islamic Tourism. The campus can accommodate over 4,000 students and has fantastic facilities on board, including a gymnasium with views of the Malacca Straits and stunning classroom interior design.
ITC organised the training on 14 March 2022 in collaboration with the Penang Tourist Guides Association (PTGA) and CPR Malaysia. It was attended by about 17 MFTG members under PTGA to gain knowledge and skills in dealing with emergency circumstances. Representatives from the Sunway Hotel Penang, an ITC Muslim-Friendly Accomodation Recognition (MFAR) hotel, and Peninsula College Penang, also participated in the training course.