Published: Apr 13, 2022 3:12 AM
⋅
Updated: Apr 26, 2022 3:14 AM
The announcement of the Malaysian border reopening on 1 April signalled a new chapter for tourism industry players. As part of tourism industry preparations to restart tourism, Islamic Tourism Centre (ITC) took the opportunity to explore the potential of Sabah as a destination for the Muslim tourist market.
Pre-pandemic, Sabah's tourism industry was thriving, with international tourist arrivals reaching 1.47 million out of the total 4.19 million in 2019. Tourism was the state's third biggest income generating industry, supporting more than 80,000 jobs, according to Sabah Tourism Board in 2021. While the Covid-19 pandemic did leave an impact on tourism in Sabah, the resilient industry is expected to make a comeback following the recent reopening of the Malaysian border.
To capitalise on this development, local tourism industry stakeholders may wish to look into diversifying their products and services to attract lucrative travel markets, like the Muslim tourist market. The Muslim tourist market was a steadily growing market before the Covid-19 pandemic hit, with 200.3 million Muslim travellers globally, spending USD194 billion on the travel and tourism industry in 2019. Now that the industry is restarting again, the Muslim-friendly sector can be expected to pick up.
At a recent seminar jointly organised by Institut Pengajian Islam dan Dakwah Sabah (IPDAS) and ITC, "Seminar Pelancongan Islam: Perspektif Sabah", to discuss the potentials of Sabah as a Muslim-friendly travel destination, Tuan Haji Muhammad Zamri Muhamed Shapek, Director of IPDAS said in his welcome remarks, that there is a misconception about the Middle-Eastern market, the highest spending Muslim market per capita, being only interested in visiting luxurious malls during their holidays.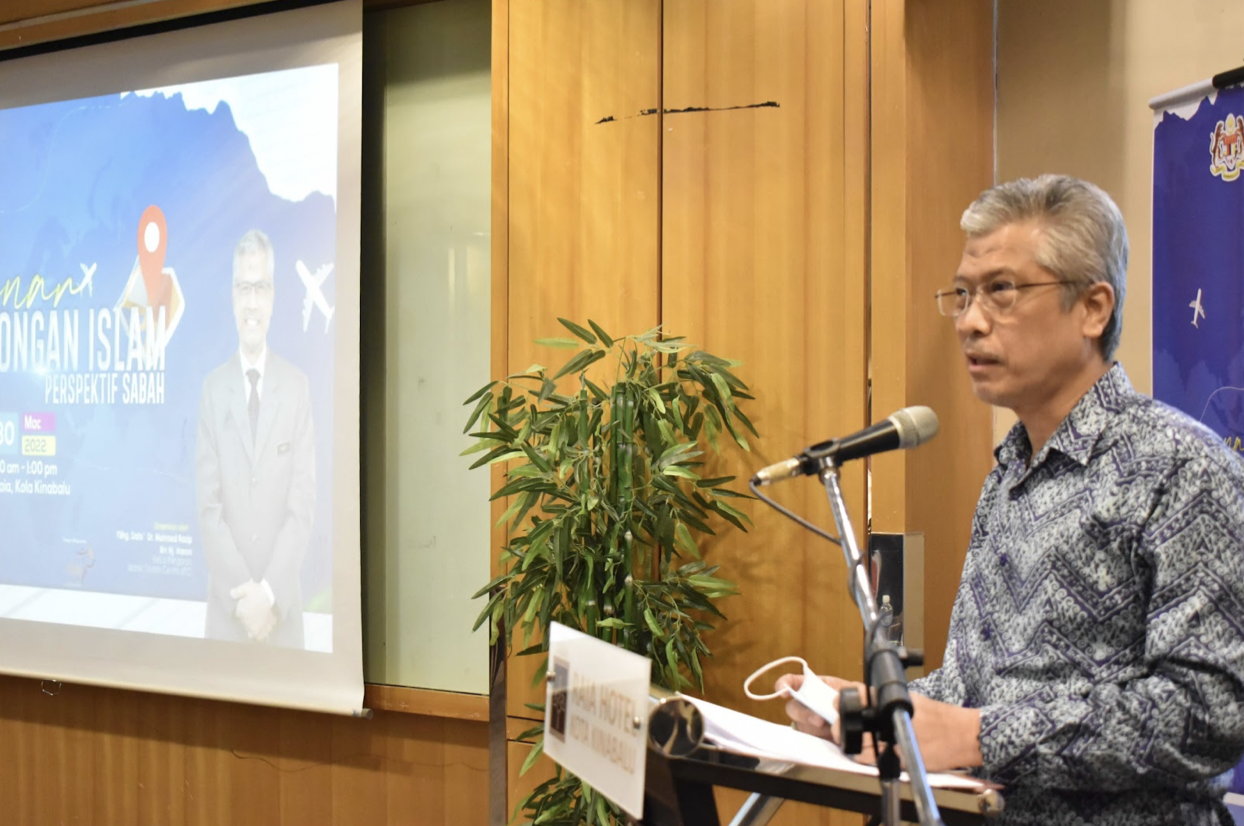 He claimed that this is not true, especially for the millennial Middle-Eastern market that is characterised to be adventure-seeking with a preference for ecotourism activities, something Sabah is famous for.
Being a geographically-diverse state, Sabah has some key natural attractions including Mount Kinabalu, the highest mountain in Southeast Asia, and the pristine islands in Semporna. These lend to Sabah's appeal as an ecotourism destination making positive environmental and social impacts.
"Sabah's nature conservation practices have always been exemplary. Not only is it aligned with the United Nations Sustainable Development Goals (SDGs), sustainability and environment protection are an important aspect of Islam that ultimately benefits the tourism industry," said ITC Director-General, Dato' Dr. Mohmed Razip Haji Hasan in his keynote address.
He also pointed out that the Muslim market is geographically diverse and does not exclusively refer to the Middle-Eastern market alone. "The scope is broad and it includes the Asean region with its estimated 255 million Muslim residents," he added.
This is where Sabah has a geographical advantage. It is directly accessible by potential visitors from different parts of the world. Residents of neighbouring country, Singapore, can take direct flights to Kota Kinabalu International Airport (KKIA) without having to stop at the Kuala Lumpur International Airport (KLIA). Meanwhile, the people of Brunei and Kalimantan, Indonesia, can even enter the state by land.