PETALING JAYA, July 5 - Halal Development Corporation Berhad (HDC) awarded twenty (20) organisations and a personality for their outstanding contributions to the growth of the halal industry during its prestigious World Halal Excellence Awards 2022 (WHEA 2022).
As part of HDC's World Halal Business Conference (WHBC), the annual award is also to recognise and honour exceptional achievements by Halal industry players in making Malaysia as the global top performer in the USD3 trillion markets. More than 200 recognitions have been awarded to individuals, organisations and companies by HDC since the introduction of the award in 2009.
The WHEA 2022 awards were presented by The Rt. Honorable Dato' Seri Dr Ahmad Zahid Hamidi, Deputy Prime Minister of Malaysia. He was accompanied by the Minister of Investment, Trade and Industry (MITI), Y.B. Senator Tengku Datuk Seri Utama Zafrul Tengku Abdul Aziz.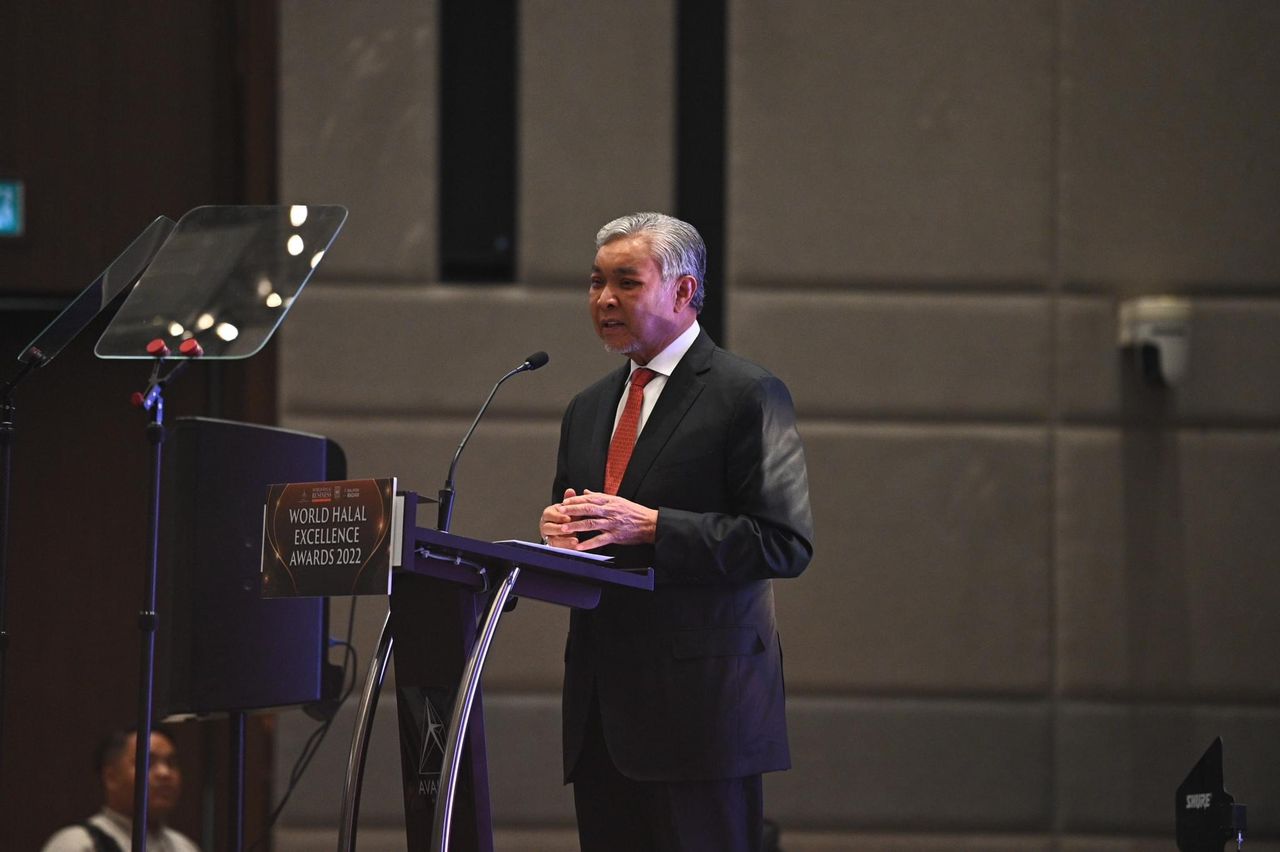 "This event is most timely, as it echoes the pace of ongoing economic growth supported by the contributions, achievements and commendable efforts of halal industry players in inducing greater product and market complexity while integrating Malaysian products globally, and tapping on the great potential of this trillion-dollar industry," said Zahid Hamidi.
The top two categories include the Halal State Performance Excellence Award and the Halal Leadership Excellence Award.
Other award categories are Halal Entrepreneur SME Excellence Award, Halal Corporate Excellence Award, Halal Financial Excellence Award, Halal Prominent Brand Excellence Award, Halal Food and Beverages Excellence Award, Halal Logistics Excellence Award, Halal Innovation Excellence Award, Halal Healthcare Excellence Award, Halal International Business Excellence Award and Halal Franchise Excellence Award.
As the highlight of the Award Ceremony, HDC announced to organize the World Halal Business Conference Circuit 2023 (WHBCC) in London, United Kingdom. Hosted by MITI, WHBCC 2023 is scheduled to be held from 23rd . and 24th . of October 2023.
WHBC Circuit focuses on strategic business initiatives that encompass the 3 pillars namely, Investment Promotion, Quality Employment and Trade Negotiation.
Malaysia and the United Kingdom (UK) have long been trading partners in the halal industry, especially in the food service and manufacturing sectors. The UK is selected as the next country for WHBC Circuit 2023 as it has a large Halal market size and Muslim population. It will be an advantage for Malaysia to tap into new market space and the UK as the launch pad for the European market. In 2022, Malaysia's halal export to the UK stood at RM342 millions, mostly from Food and Beverages segment. WHBC Circuit London, UK 2023 is a powerful opportunity for sponsors, partners and supporters to position themselves as leaders in the world's leading and most innovative Halal ecosystem while simultaneously blazing forward in their respective businesses.
This year's awards were proud to have on board our winners: Heading the list is His Excellency Dr Muhammad Sulaiman Al Jasse, the Chairman and President of the Islamic Development Bank (IsDB) Group, who received the 2022 Halal Leadership Excellence Award. Under his leadership, IsDB and HDC collaborated in undertaking strategic halal ecosystem gap analysis studies in Malaysia and potentially other regions. He also led the inking of an MoU between Islamic Development Bank (IsDB) Group and Halal Products Development Company Saudi (HPDC), to explore investment opportunities that support the production of top-notch halal products.
Alliance Bank Malaysia and Islamic Development Bank (IsDB) were awarded the Halal Financial Excellence Award for Local and International Financial Institutions respectively to honour their respected reputation in Islamic Finance integrity, trust and good governance, which drives their business through knowledge, expertise, hard work and focus on customer service driven by sustainable approach.
Gerbang Alaf Restaurants Sdn Bhd or famously known as McDonald's was presented with the Halal Prominent Brand Excellence Award (International). This is to honour its high-profile brands and trademarks built throughout the halal industry. This includes creative excellence and consistency in promoting international acceptance and recognition through best manufacturing practices while upholding halal integrity. Home-grown health supplements business Flavettes was honoured with this award under the Local Category. Flavettes, the first pharmaceutical product manufactured by Duopharma to receive Malaysian Halal certification from JAKIM, recently launched the new Flavettes Nutriskincare range as an expansion into the health and beauty segment.
Halal Corporate Excellence Award|, a new category for this year's award was presented to Mydin Mohamed Holdings Berhad for consistently exhibites growth and has emerged as leader in brand recognition and customer confidence within the industry.
Halal Logistics Excellence Award was presented to Tasco Berhad (category Large Company) and Quanterm Logistics Sdn Bhd (SME) for their respective exceptional business strategy in adapting to worldwide logistics needs and navigating surges and peaks. These companies are also celebrated due to their efforts in driving improvements in an industrial environment and Halal integrity while advancing business efficiency.
The Halal Healthcare Excellence Award was won by Xepa Soul Pattison and Culvita Sdn Bhd for their role in trailblazing the healthcare industry as a provider under the category of Large Corporation and SME respectively. These companies are distinguished for their quality of products and services, manufactured and distributed within the stringent halal processes.
The next two winners are household names to many, having established themself as innovative and trusted leaders in the Food & Beverage sector. Started small, then scale up, build a solid field team, have a retail execution plan, and design great packaging and good advertising had earned Ajinomoto (Malaysia) Berhad and PS Food & Beverage Sdn Bhd the Halal Food and Beverages Excellence Award for Large Company and SME respectively.
To honour the participation of the Malaysian Small and Medium Enterprises (MSMEs), two recipients were presented with the Halal SME Excellence Award to recognise SMEs that displayed accelerated growth and gained traction in industry recognition and customer confidence. Doluvo Sdn Bhd and SK76 Marketing Sdn Bhd demonstrated business resiliency and financial sustainability through their strategic and tactical planning.
Marrybrown Sdn Bhd (category Large Company) and Hana Medic Sdn Bhd (category SME) were awarded the Halal International Business Excellence Award for demonstrating innovative business processes, state-of-the-art product R&D capabilities, high-level of ESG awareness in their operations and overall business achievement.
F&N Holdings Bhd (category Large Company) and Agym Nutrition Sdn Bhd garnered the renowned Halal Innovation Excellence Award for innovating, changing and infusing technology and ideas into the halal industry and community. This is extended to the efforts and commitment to pioneering halal R&D and the revolutionary ideas in uplifting halal through science and technology.
With Malaysia as a global halal hub, the states are also growing their industry in tandem with that of the country's halal economy. This year, the Selangor State Government received the Halal State Performance Excellence Award in recognition of its outstanding initiatives, which have helped achieve higher levels of promoting halal, spurring investment in the halal industry and encouraging the adoption of Halal certification in Selangor.
This year, WHEA introduced the Halal Franchise Excellence Award, which seeks to commend the outstanding efforts of both franchisees and franchisors in offering halal services and products to consumers. The Halal Franchise Excellence Award (Franchisor) was honoured to Kopitiam Asia Pacific Sdn Bhd while the Franchisee category was awarded to City Coin Laundry Sdn Bhd.
More than 300 entries received, and nominees were thoroughly managed and audited by Deloitte Business Advisory Sdn Bhd, where the standard of selection process is at global level.
Zahid said, "It is our hope that these achievements accorded tonight will lead to the bar being raised higher whether in terms of performance, efficiency or productivity, to ultimately benefit the halal industry. And with this, a new horizon of opportunity is for the taking to build the capacity of halal players to diversify and gain a competitive edge in this area."
Leveraging on HDC's existing comprehensive offerings and services towards halal industry development, the winners of WHEA 2022 received a trophy, with opportunities to benefit from HDC programmes such as the World Halal Business Conference Circuit, be part of the industry representative panel in discussing business challenges and channelling industry insights to policymakers and ministers, as well as be recognised as WHEA Winners' Elite Group and promoted within HDC's existing network globally.
---