Halal Expo Indonesia (HEI) in ISEF Facilitates Global Expansion for Entrepreneurs
As the international conference and trade exhibition, Halal Expo Indonesia (HEI) is packed with a series of conferences and business matching. Taking place at Jakarta Convention Center (JCC) on October 25-29, Indonesia's largest Business to Business and Business to Consumer expo becomes a platform that facilitates entrepreneurs to expand their business globally.
Placing an area of 3,500m2 in Hall A, HEI hosts around 120 stands consisting of local and international business players, including from Malaysia, Cambodia, Belarus, China, India, Egypt, Iran, Ethiopia, Saudi Arabia, Sri Lanka, India, the US, Jordan, Japan, Turkey, and even Palestine.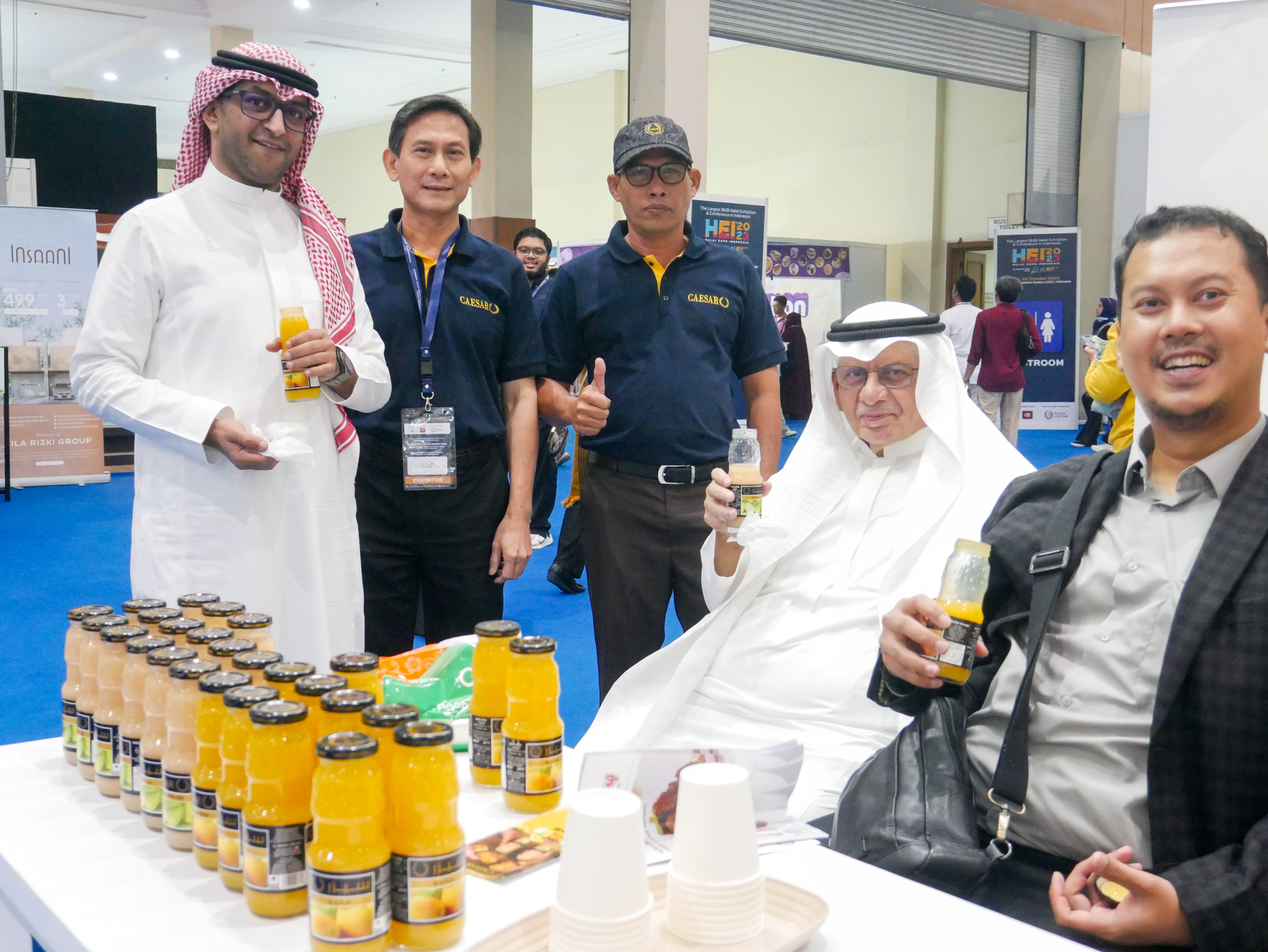 Participating in HEI, these foreign exhibitors aim to seek business partners and expand their market in Indonesia, one of which is PT Abie Isma Altra, a Saudi Arabia-based importer that supplies fresh drink products from natural fruit under the brand name Caesar Jus.
The President Commissioner of PT Abie Isma Altra, Husain Abie Isma, stated that his party presents opportunities to people who intend to be the distributors of Ceasar Jus. During business matching at HEI, Husain confirmed that at least two parties are interested in being the distributor of Caesar Jus in Surabaya and Makassar. His party also provides an easy payment mechanism for the distributors.
"We will observe the prospects first, if it demonstrates good results, the payment can be around 30% as the distributors' commitment. For example, when (the distributor) orders one container. After the goods arrive, as the cooperative bond, 50% can be added. The price to the end consumers is Rp18,500. However, the prices to distributors will be adjusted according to the order quantity," said Husain.
Another participant, Faheem Aref, Co-Founder of Light Art VR, an American company that provides virtual reality experiences of Islamic entertainment, is also looking for partners or franchises in Indonesia.
Light Art VR is a company that creates content about Islamic heritage in 8K resolution in various languages. Utilizing virtual reality (VR) technology, this company presents an exceptional experience for visitors to witness Islamic stories such as Mecca, Hijrah, the story of Prophet Musa AS, Prophet Muhammad SAW's birthday, and the story of the Isra Mi'raj of Prophet Muhammad SAW.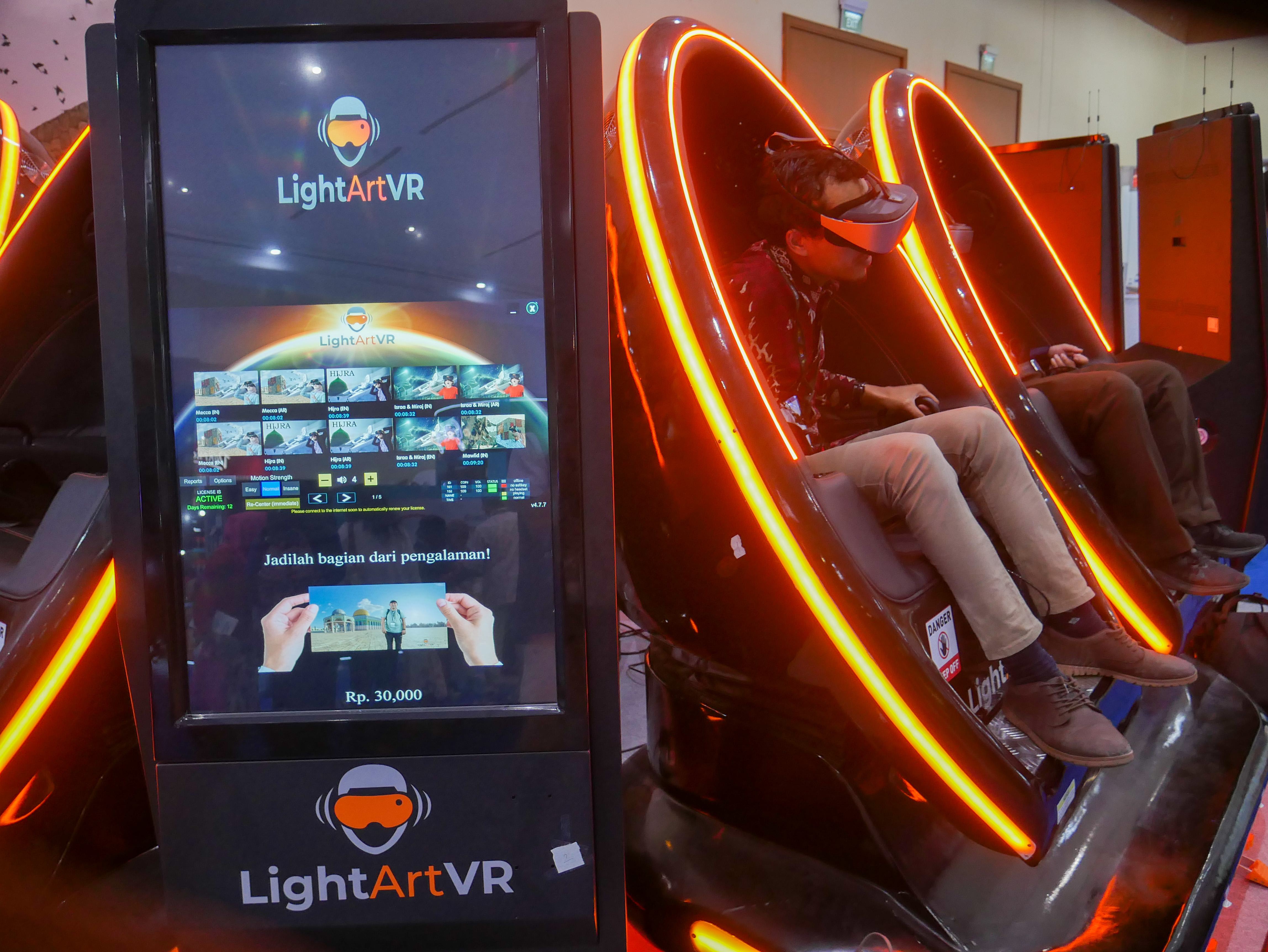 VR technology gives the audience an experience of being at a Muslim holy site and also takes the viewers 1400 years back to the pre-Islamic era. VR technology users can feel movement, smell the aroma of the Kaaba, and feel the wind and its movement. For Muslims, this is a breakthrough that can cure the longing that has never been experienced in the holy land and other historical places.
In HEI, Light Art VR offers a promotional price of Rp785 million for 1 outlet, including 4 motion chairs and 2 non-motion VR headsets. Further, partners or franchisers can open VR outlets with the size of 4x4 square meters in malls or in areas that are frequently passed by people. Partners do not need to conduct full payment for this product, they only need to pay a royalty fee of 25% of tickets sold.
Moreover, the event also presents an export aggregator who assists entrepreneurs in reaching international market, such as in Dubai, the US, Japan, and the Philippines, for example, Usindo Exim Consultant llc, the US-based import aggregator.
Ihza, marketer of Usindo Exim, stated that during HEI, the company offers MSMEs, particularly fashion and craft MSMEs, to participate in joint export program. In this program, Usindo Exim will gather and bring MSMEs products to the US to be displayed at Indonesia Muslim Society in America (IMSA) expo and the Malaysian Islamic Study Group (MISG) exhibition in Austin, Texas, the US, on December 23-27.
"We help MSMEs to penetrate the global market, specifically to the US. However, by taking into account the delivery duration, only products that have no risk of going stale, such as fashion and craft products, can participate in this joint export program. Coincidentally, ISEF-HEI present multiple fashion products. They can join the program by paying the shipping fees under Rp 20,000/pcs with no minimum or maximum limit. The due date for gathering the product is only until November 1 2023.
If the MSMEs' products are not being sold in the exhibitions, two options are offered. First, the product can be returned to Indonesia by paying shipping costs. Second, they can store their goods in Usindo Exim's warehouse by paying rent. Later, MSMEs also can market their products online via Amazon or their official website, and if the product is sold, it can be shipped directly from the warehouse.
Marketer of Usindo Exim Ihza revealed that the company targets a minimum of 100 MSMEs for this program. "From the last update, namely yesterday, 60 MSMEs have registered to the program in the pre-event and during business matching in HEI.
One of the MSMEs who joined the program, Gita from PT Asa Pratama Kreasindo under the brand Ainaras, revealed that the organizing of HEI is really helpful because the event opens up business opportunities for entrepreneur to expand their business globally through business matching. Ainaras offers modest fashion products, such as mukena (ladies' prayer gown), peci (Muslim male caps), gamis for males (Arab-style shirt), sarung, hijab, and traveling sajadah (prayer mat).
She hopes, in the future, more foreign buyers can come to Indonesia, either through an invitation from HEI or from the government. Therefore, it will open greater business opportunities. "Alhamdulillah (thank God), there is further business agreement from Malaysia. Following business matching at HEI, several countries are interested (in building cooperation), but it is still under discussion," added Gita.
The news of obtaining opportunities to reach the export market is experienced by PT Ganesha Abadi Tama, a manufacturer of spices and herbs whose factory is located at Jatisampurna, Bekasi. The marketer of PT Ganesha Abadi Tama, Hendra Kurnawan, stated that after joining business matching for two days, they found business partners from four countries that are serious about collaborating with them, namely from Libya, the Philippines, Dubai, and Saudi Arabia. "The business matching is a great opportunity for our company, which has never exported our product before. Alhamdulillah, we have opportunities to enhance our brand awareness among foreign buyers," said Hendra.
Entrepreneurs who intend to enlarge their market share while enhancing their management capacity and competitiveness of their product quality can also consult and become a partner of Rumah Produksi Halal Bersama. In Rumah Produksi Halal Bersama's booth, several MSMEs' products that have become increasingly popular abroad are displayed, such as Kaldu Kokot and Rasanesia Crispy Cassava, which is popular in Malaysia, Singapore, and Jeddah. Head of Halal Ecosystem in MSMEs Halal hub by Goorita, Norman, conveyed that his party strives to nurture and assist MSMEs in various regions, not only to achieve sustainability in the domestic market but also in the international market.
In the implementation of HEI at ISEF 2023, an MoU signing concerning registration of product, import, and distribution is carried out between Malaysia company PT Halagel Idaman Makmur – a halal product producer who manufactures toothpaste, soft gel supplement made from halal gelatine – and Agym Nutrition Sdn Bhd – a company that produces energy supplement specifically for sports and gym lovers. This cooperation agenda is witnessed by the Chairman of Malaysian International Islamic Chamber of Commerce and Industry (MIICCI), Tn Haji Muhamad Amin Fahmi Solahuddin, and the Chairman of Indonesian Muslim Entrepreneurs Community (KPMI), Rachmat Sutarnas Marpaung.
Since 2019, Halagel, through PT HIM, has distributed its products in Indonesia, but the activity was stopped during the pandemic. Today, Halagel is in the process of reactivating its distribution activities in Indonesia, which is expected to start in early 2024. At the same time, the Director of Halagel Group Malaysia, En Ahmad Mokhzani, also hopes to build cooperation for the development of Indonesian products to assist them in penetrating Malaysia market.
Moreover, a ceremony of business and financing deals ISEF 2023 is held in the series of ISEF-HEI 2023. This ceremony aims to promote multiple products and enhance the partnership of sharia financing between banks, non-banks, partners, and customers. The total number of business financing deals in this sharia financing month reached Rp6.19 trillion.