Published: Mar 13, 2023 2:28 AM
⋅
Updated: 2:28 AM
Thursday, 2 March 2023 — Saturna Sdn Bhd, a leading shariah-compliant financial services firm, today officially launched its digital platform to help investors grow their wealth ethically and securely.
The online tool enables individuals to begin their investment journey in just a few clicks, with the guidance of Saturna's deep expertise in the world of Islamic finance. Unlike other offerings currently available on the market, Saturna takes an investor-friendly approach by imposing no sales nor redemption charges and no hidden fees. Potential investors can also enjoy flexibility as Saturna's funds do not come with a minimum holding period.
"Our new online platform is designed to be simple and secure for a seamless user experience," said Pn. Shahariah Binti Shaharudin, President of Saturna Sdn Bhd. "It's accessible enough for anyone to start investing in shariah-compliant solutions instantly, regardless of their experience or investment budget."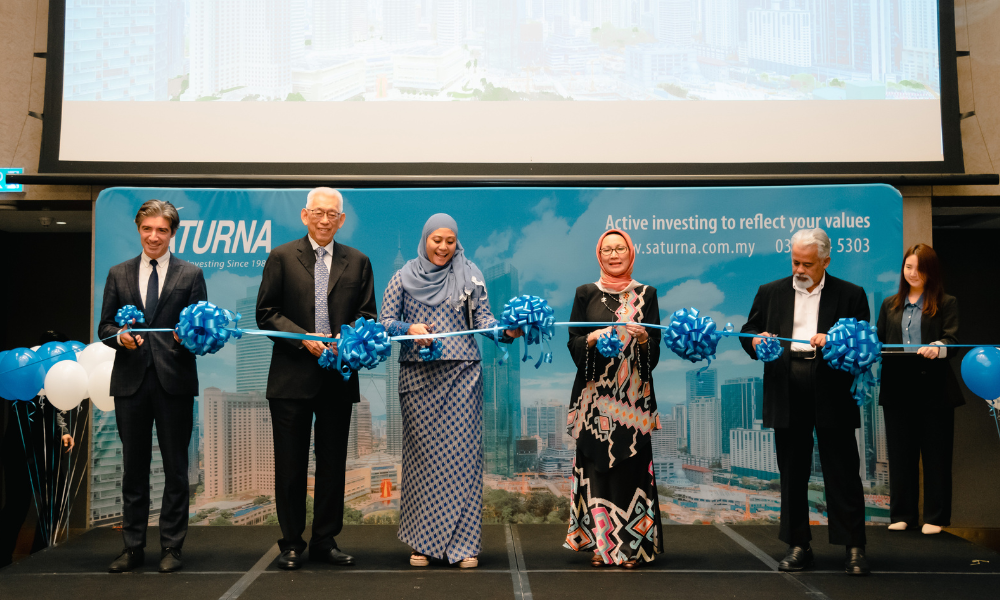 The launch of Saturna's digital platform was officiated by Pn. Ruslena Ramli, Director of Digital Finance and Islamic Digital Economy of Malaysia Digital Economy Corporation (MDEC), who expressed her hope that more organisations within the Islamic financing space will adopt innovative solutions to grow the industry further. "With this online platform, Saturna has led the way in making Islamic-based investment opportunities more available to a wider audience, enabling more individuals to benefit from the wealth of expertise they have to offer ," said Pn. Ruslena.
In addition to Islamic principles, Saturna's funds also comply with global Environmental, Social, and Governance (ESG) standards, where investments are made in companies engaging in socially-responsible and environmentally-friendly business practices or products.
"We see ESG measures as complementary to shariah-compliant initiatives, as they are both driven by sustainability considerations, mitigate volatile risk-taking, and value long-term growth," explained Pn. Shahariah. "I believe the events of the past few years, from the 2008 financial crisis to the Covid-19 pandemic, have inspired a paradigm shift in the way we view investing and increased the appetite for socially-conscious metrics. With our extensive expertise in Islamic-based fund management, Saturna is well-positioned to meet this demand with alternatives to conventional financial planning solutions."
The launch event also featured a forum discussion on future trends that will shape the investment scene in the coming year. Panellists at the dialogue included Pn. Ruslena Ramli, Director of Digital Finance and Islamic Digital Economy of Malaysia Digital Economy Corporation (MDEC), Yang Berusaha Ahmad Dasuki Abdul Majid, Chief Executive Officer of PTPTN and Professor Dato' Dr Mohd Azmi Omar, President and Chief Executive of the International Centre for Education in Islamic Finance (INCEIF).
Saturna Sdn Bhd is a wholly-owned subsidiary of US-based Saturna Capital, whose Amana Growth Fund was ranked as the top Large Growth Fund of 2022 by US News & World Report. Since entering the Malaysian market in 2010, Saturna has established itself as a reputable and transparent Islamic financial firm, listing the National Higher Education Corporation Fund (also known as Perbadanan Tabung Pendidikan Tinggi Nasional or PTPTN) and the Employee's Provident Fund (EPF) as among its largest corporate investors.
Among the key tenets of shahriah-based investing are the prohibition on interest (or riba) as well as investments in activities that are prohibited by Islam (or haram), such as alcohol, gambling, and conventional insurance. Pn. Shahariah points out that these criteria are underpinned by a need to be socially responsible, making shariah-friendly investments an attractive option for anyone interested in ethical and transparent financial solutions.
"We are unique even within the Islamic finance sector as we prioritise value-orientated investments and sustainability over short-term profits, as backed by strong research and screening tools; our global track record over the decades has shown that this is an approach that works. Our commitment to Islamic principles shines throughout our investment process and client relationships. Since we operate on a collaborative model based on profit-and-loss sharing, we do not charge any fees when it comes to investing or withdrawing returns — we only earn if our clients earn," said Pn. Shahariah.
In Malaysia, Saturna manages two popular shariah-compliant equity trust funds, namely the ICD Global Sustainable Fund and the ASEAN Equity fund, which offer investors exposure to global and regional investments respectively. Both funds are authorised by the Securities Commission Malaysia, and invest in a diversified portfolio that favours stable earnings for the long-term.
To sign up to Saturna's digital platform, or learn more about its investment portfolio, go to: https://saturna.com.my/