Held this October, ISEF 2023 Strengthens Collaboration in the Halal Ecosystem Towards Indonesia World Halal Center 2024 Jakarta, September 26, 2023 – The 10th Indonesia Sharia Economic Festival (ISEF) will once again be held from October 25 to 29, 2023, at the Jakarta Convention Center (JCC). With the theme "Accelerating Sharia Economy and Finance Through Digitalization for Inclusive and Sustainable Growth," this year's ISEF features a total of 793 exhibitors from Indonesia and 20 friendly countries.
ISEF 2023 will occupy an area of 10,000 square meters and will feature 62 series of seminars, talk shows, and various other events involving 22 Ministries/Agencies, 37 associations, 1,003 industry players, and 46 international partners. ISEF, initiated by Bank Indonesia since 2014, aims to attract at least 40,000 visitors, including domestic and foreign buyers and investors.
In this edition, ISEF collaborates with Halal Expo Indonesia (HEI), becoming the largest Business to Business and Business to Consumer exhibition in Indonesia. It includes exciting programs such as the International Conference, Business Matchmaking, Business Forum, and other special events. This collaboration is expected to accelerate the development of halal products and attract the attention of the audience and potential buyers to participate in ISEF 2023.
The commitment and consistent collaboration by Bank Indonesia in strengthening the Sharia economy and finance ecosystem with various stakeholders have solidified Indonesia's position as a significant player in the global halal industry. According to the Global Islamic Economy Indicator 2022, Indonesia ranks fourth among the largest Sharia economies, following Malaysia, Saudi Arabia, and the United Arab Emirates (UAE). Indonesia also ranks second in the halal food category, third in Muslim fashion, sixth in Sharia finance, and ninth in halal pharmaceuticals and cosmetics.
Furthermore, based on the Islamic Finance Development Indicator (IFDI), Indonesia has seen significant progress in the past five years, rising from the tenth position in 2018 to the third position in 2023. Indonesia has even secured the top position in the Global Muslim Travel Index (GMTI) in 2023.
Other achievements include the continuous growth of sharia financial assets, averaging 11.3% over the past six years. The market share of sharia finance in the national financial sector has increased from 8.5% to 11% during this period. Additionally, the establishment of three Halal Industrial Zones (KIH) in the provinces of Banten, East Java, and the Riau Islands is a crucial foundation for making Indonesia a Global Halal Hub. In 2022, the total export of halal products reached USD 15.87 billion (Ministry of Trade).
With these achievements, Wahyu Purnama, Director of the Department of Sharia Economy and Finance at Bank Indonesia, stated that the organization of ISEF will strengthen collective efforts and synergize various policies and programs for the development of sharia economy and finance from various relevant authorities and institutions under the framework of coordination through the National Committee for Sharia Economy and Finance (KNEKS). As one of the state institutions consistently supporting the development of sharia economy and finance in Indonesia, Bank Indonesia is always working to expand its network with various parties to strengthen the halal value chain ecosystem. This includes partnering with PT Halal Expo Indonesia (HEI), which is a strategic partner of the Indonesian Muslim Entrepreneurs Community (KPMI) and will facilitate business matching programs during ISEF.
"Collaboration between ISEF and HEI is expected to enhance synergy between the government and businesses in the development of sharia economy and finance, with the aim of realizing Indonesia's vision as the global halal center in 2024," said Wahyu Purnama, Director of the Department of Sharia Economy and Finance at Bank Indonesia. He also mentioned several special events at ISEF 2023, including the Indonesia International Modest Fashion Festival (IN2MF), involving international designers to scale up Indonesia's position in the global modest fashion arena, and the International Halal Chef Competition (IN2HCC) as the world's first event of its kind. Moreover, there are nine international events co-organized with IFSB, IsDB, IIFM, and IILM to strengthen Indonesia's positioning as an international halal hub for the development of sharia economy and finance. To enhance inclusivity, ISEF 2023 will host the ISEF Fun Walk, Tablig Akbar, eight domestic forums for discussions on the halal ecosystem and certification, sharia finance, and halal lifestyle, along with 13 talk show sessions with experts and practitioners open to the public, as well as various other events in collaboration with various relevant parties.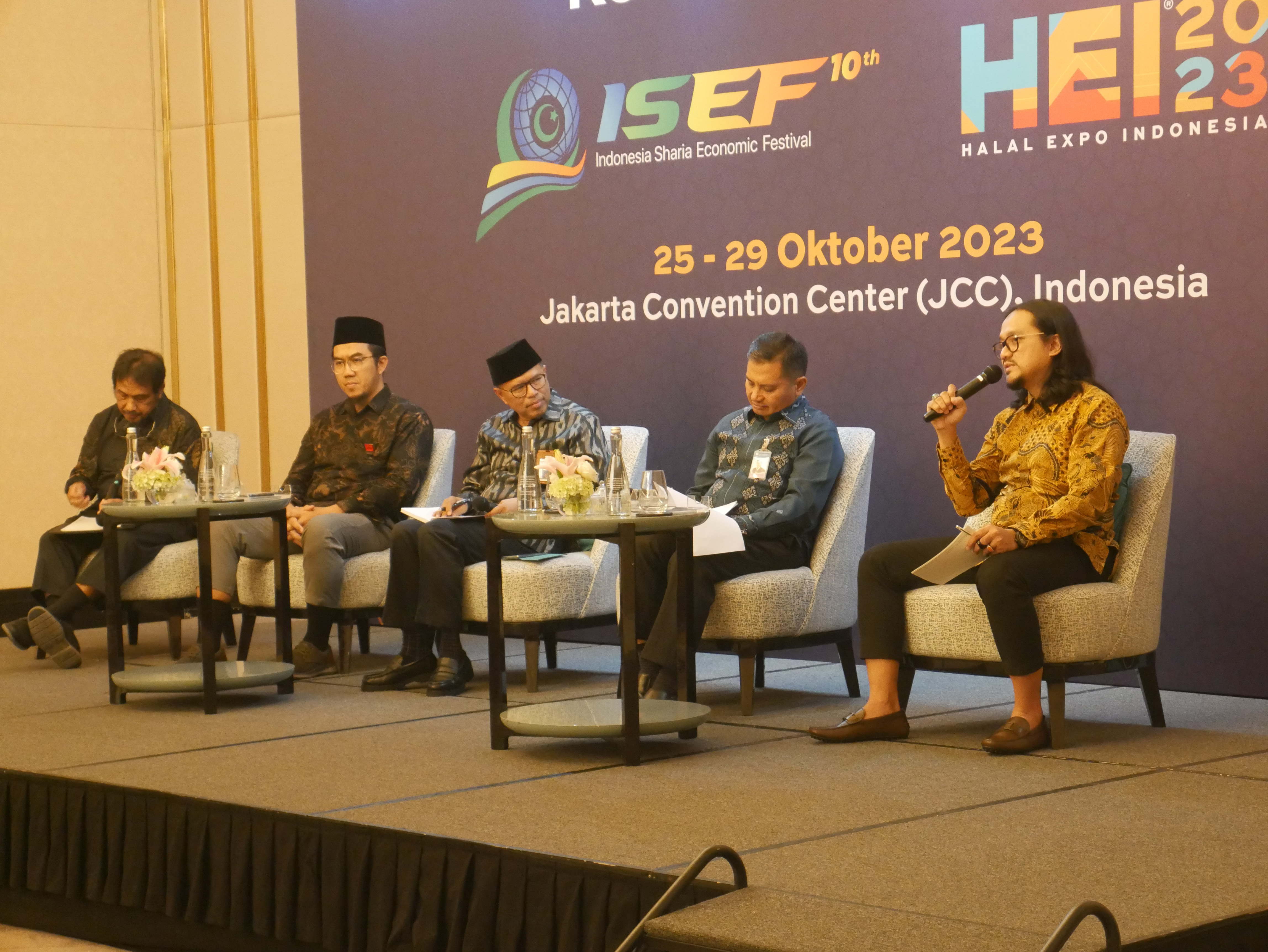 Aryo Wibisono, CFO of PT Halal Expo Indonesia, appreciates Bank Indonesia's commitment to consistently promote the development of sharia economy and finance in the country. Through the HEI event at ISEF 2023, Aryo stated that businesses will be facilitated to export their products to several partner countries, especially in the Middle East, such as Saudi Arabia, the United Arab Emirates, and others. "For businesses looking to partner with foreign manufacturers, opportunities are also open. HEI has brought pavilions from friendly countries looking to expand into Indonesia and seeking local partners," Aryo said.
Aryo added that Halal Expo Indonesia (HEI) has partnered with several International Halal Expos and Halal Authorities such as Saudi International Halal Expo, Halal Expo Nigeria, Halal Expo London, Malaysia International Halal Showcase (MIHAS), Korea Halal Authority, Halal Control Germany, Vietnam Halal Center, Japan Halal Certification Promotion Organization, Cape Malay Consultant, and others. Halal Expo Indonesia has also recently signed a strategic agreement with Wasabih, an online Sharia economic community recognized worldwide. It consists of professionals and halal business practitioners. Through the Wasabih platform, various halal businesses will be interconnected, making it easier for entrepreneurs to find suitable business partners, plan meetings, and engage in business matchmaking. Wasabih has gained commendable recognition among Muslim and non-Muslim professionals interested in making an impact and addressing an economy growing at 9% per year.
In the HEI event at ISEF 2023, KPMI, which has the Export Academy program for human resource development in export ecosystems, will collaborate with Nudira Learning Center, Aspenku.com, and Hibbu Creative House to scale up SME businesses towards the global market.