Published: Oct 04, 2022 5:13 AM
⋅
Updated: 5:21 AM
CIMB Islamic Bank Berhad (CIMB Islamic) returned once again as a Platinum Sponsor of the prestigious 18th Malaysia International Halal Showcase (MIHAS 2022) which was held at the Malaysian International Trade and Exhibition Centre (MITEC) from 7th – 10th September 2022. CIMB Islamic has been supporting the world's leading Halal showcase over the last decade and will continue to support the Halal industry, especially in the banking and finance sector. Leveraging its deep industry expertise and regional presence, CIMB Islamic's range of one-stop solutions enables SMEs to catapult their presence into the regional and global market.
The Bank's strength as a key driver of growth in Islamic finance combined with its regional presence is set to continue to benefit small and medium enterprise (SME) customers. With ASEAN having the world's largest Muslim population, CIMB Islamic's value to the region is found in its commitment to support Small and Medium Enterprises (SMEs) to accelerate their journey in the Halal market as well as the green economy. Through innovative financing solutions, and strategic partnerships with government agencies and trade associations, CIMB Islamic provide SMEs with a wealth of support and increased awareness of useful halal and green solutions to further elevate their businesses.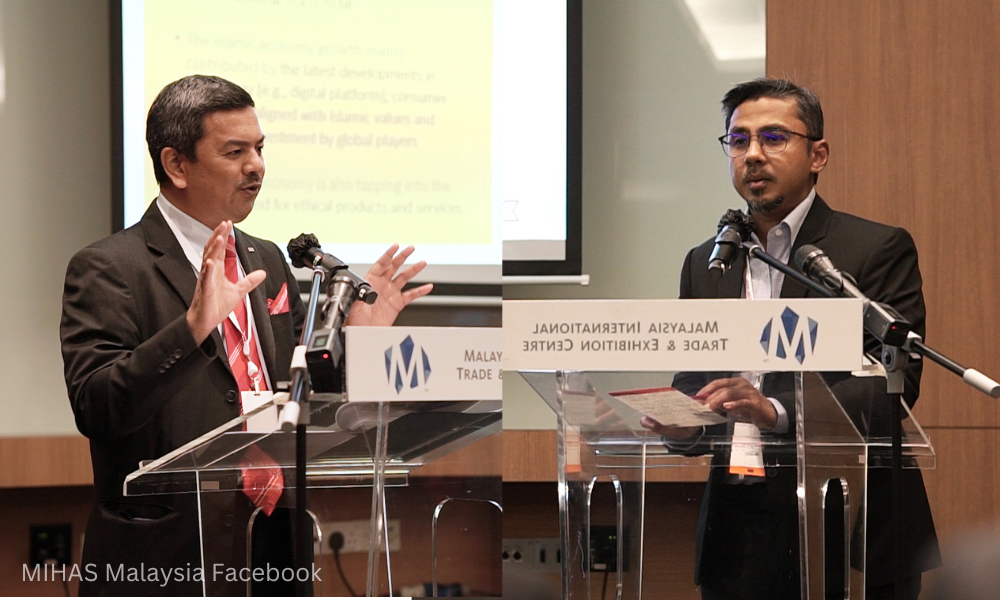 CIMB HalalBizReady is a proposition that supports SMEs in their growth aspirations in the global Halal market through, among others, achieving Halal status as offered by the Department of Islamic Development Malaysia (JAKIM). Beyond that, CIMB Islamic also facilitates exposure and brand awareness activities to assist businesses post-certification through its partners' online platforms and solutions that include industry know-how, empowerment, facilitation, consulting, e-commerce, HR, and financial management. SMEs will be able to leverage this suite of full-fledged offerings and services in their continuous efforts to scale and energise their businesses. At the same time, the Shariah-compliant solutions also promote the diversity of fairness, transparency and competitiveness, qualities valued by both consumers and producers of halal goods and services.
In line with the Malaysian Government's aim to advance the sustainability agenda in a holistic and inclusive economic approach, CIMB Islamic also offers a comprehensive set of financial solutions and incentives to help businesses migrate toward a green economy. Similar to CIMB HalalBizReady, CIMB Islamic offers another set of innovative financing solutions - anchored on sustainability through CIMB GreenBizReady. It is a one-stop centre for sustainability solutions for SMEs looking to start and progress on their sustainability journey. SMEs will be empowered through financial solutions and incentives such as sustainability-linked financing, access to sustainability service providers, training and capacity building, certification and advisory services, and business matching with support from industry leaders and government agencies.
MIHAS 2022 has been the largest gathering for Halal trade fair this year as a physical event and received about 33,000 visitors throughout the event with 1285 booths occupied by 620 exhibitors from 32 countries. During MIHAS 2022, CIMB Islamic's SME team was on hand at the Bank's booth, generating excitement amongst visitors with free consultation services on the wide spectrum of opportunities available for SMEs. Visitors from a diverse set of business areas benefited from the sessions through the guidance and recommendations provided to customers vis-à-vis their current performance, as well as opportunities for expanding their business, locally, regionally and globally.
For more information on CIMB HalalBizReady and CIMB GreenBizReady, visit www.cimbislamic.com.my or email us at [email protected]
Content provided by CIMB Islamic.
---
For any enquiry on article/video/talkshow, please contact [email protected] or Whatsapp at +60162716516 (Aisha) or +60176190307 (Syahirah).